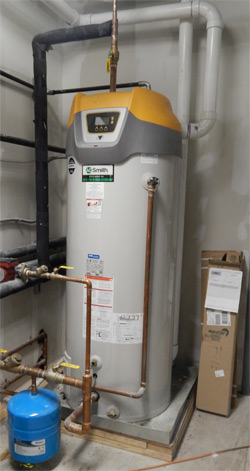 Present-day water-supply systems use a network of high-pressure pumps, and pipes in buildings are now made of copper, brass, plastic (particularly cross-linked polyethylene called PEX, which is estimated to be used in 60% of single-family homes), or other nontoxic material. Due to its toxicity, lead has not been used in modern water-supply piping since the 1930s in the United States, although lead was used in plumbing solder for drinking water until it was banned in 1986. Drain and vent lines are made of plastic, steel, cast-iron, or lead.
The straight sections of plumbing systems are called "pipes" or "tubes". A pipe is typically formed via casting or welding, whereas a tube is made through extrusion. Pipe normally has thicker walls and may be threaded or welded, while tubing is thinner-walled and requires special joining techniques such as brazing, compression fitting, crimping, or for plastics, solvent welding.
In addition to lengths of pipe or tubing, pipe fittings are used in plumbing systems, such as valves, elbows, tees, and unions. Pipe and fittings are held in place with pipe hangers and strapping.
Plumbing fixtures are exchangeable devices using water that can be connected to a building's plumbing system. They are considered to be "fixtures", in that they are semi-permanent parts of buildings, not usually owned or maintained separately. Plumbing fixtures are seen by and designed for the end-users. Some examples of fixtures include water closets (also known as toilets), urinals, bidets, showers, bathtubs, utility and kitchen sinks, drinking fountains, ice makers, humidifiers, air washers, fountains, and eye wash stations.