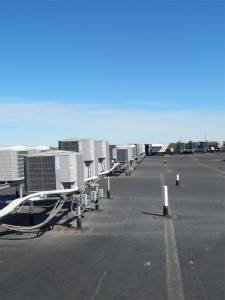 HVAC (heating, ventilation, and air conditioning) is the technology of indoor and vehicular environmental comfort. HVAC system design is a subdiscipline of mechanical engineering, based on the principles of thermodynamics, fluid mechanics, and heat transfer. Refrigeration is sometimes added to the field's abbreviation as HVAC&R or HVACR, or ventilating is dropped as in HACR (such as the designation of HACR-rated circuit breakers).
HVAC is important in the design of medium to large industrial and office buildings such as skyscrapers and in marine environments such as aquariums, where safe and healthy building conditions are regulated with respect to temperature and humidity, using fresh air from outdoors.
The HVAC industry is a worldwide enterprise, with roles including operation and maintenance, system design and construction, equipment manufacturing and sales, and in education and research. The HVAC industry was historically regulated by the manufacturers of HVAC equipment, but regulating and standards organizations such as HARDI, ASHRAE, SMACNA, ACCA, Uniform Mechanical Code, International Mechanical Code, and AMCA have been established to support the industry and encourage high standards and achievement.